Plan your trip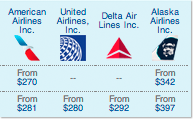 ITA's original airfare shopping engine. It has given us insight into the needs of travelers and produced valuable ideas for enhancing a lot of our flight products.
You can try Matrix here
. For the mobile version called OnTheFly download it on
Google Play
or in the
App Store
.
Flight Search offers users flight search tools that make it easy to quickly find the best flight. Whether you're planning a trip on your desktop, tablet or phone, you can use Flight Search to search for countries, states, islands and more from any origin in the U.S. and many countries around the world.
If you are a travel partner, contact our Business Development team to learn how you can participate in these products.