US Airways Records 67% Growth in One Weekend, Putting ITA's Performance and Scalability to the Test
When the combined US Airways and America West flipped the proverbial switch, online query volumes shot up two-thirds in one weekend. QPX™ was able to support this rapid and massive growth in online queries and tickets using the same application America West launched in 2002.

QPX is designed to support massive volumes and mission-critical transactions -- from rapid shifts in volume created by targeted promotions to sustained growth over time caused by channel shifts. It uses flexible and extensible configuration languages and is built on commodity-based hardware, which allows capacity to be added cheaply and without limit.

At US Airways, a single configuration of QPX successfully supported shopping across both reservation systems until the airline was ready to migrate to one system. This involved integrating its independent booking class hierarchies, flight schedules, and business rules without compromising the cost-savings and efficiencies it had worked so hard to deliver to its travelers.


QPX™ Query Volumes Jumped 67% in One Weekend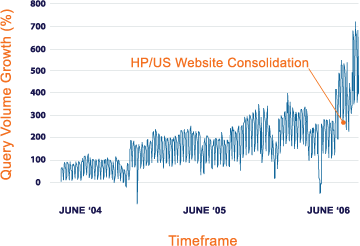 "The jump in online query volumes went from 150 to 250 million queries, virtually overnight. QPX™ was able to handle this without skipping a beat."

Travis Christ
VP Sales & Marketing, US Airways



---
About US Airways
US Airways has a rich culture and colorful history as one of America's great airlines. It serves 240 destinations in 28 countries/territories. With the merger of America West, US Airways is now the nation's second largest low-cost airline.

> www.usairways.com



---