ITA Software's new passenger service and reservations platform contains the software required to run a passenger airline, including a reservation system, inventory control system, departure control system, and more. Built from scratch on modern, open technologies, it makes possible the latest advancements in merchandising, self-service, and partnerships. It is easy to learn, use, and manage — and fully supports all network and alliance strategies.


Grow & Transform with Ease
Adapt with modular, modern, open technologies
With its highly configurable components, ITA's airline platform readily and cost-effectively adapts to the changing needs of your business. Its service-oriented architecture and configurable front ends make it easy to configure and execute airline-specific business logic. All components adapt smoothly to changes in your requirements.

Scale to support your success
ITA's airline platform can scale easily and cost-effectively to suit the needs of airlines of all sizes, providing increased capacity and improved performance as your business grows. The extensibility makes it easy to add new functionality quickly, as your needs change. High levels of automation for exchanges, irregular operations, and reaccommodation further reduce costs of operation.

Engage in strategic partnerships
ITA's airline platform provides robust interline and codeshare messaging capabilities that will enable you to grow your business with all of your airline partners. Interchange messages are supported for reservations, ticketing, checkin, and all mandated government agency interactions for international travel.


Easy to Learn & Use
Train employees in two days
Familiar browser-based interfaces make it quick and easy for experienced or new employees to migrate from the legacy system to the new platform. Employees can complete training in only two days — and begin delivering value to your customers immediately.

Empower your employees
ITA's airline platform puts efficient tools and real-time customer data at the immediate disposal of your employees so they're always productive, well-informed, and able to focus on servicing your customers.

Empower your customers
Self-service features, intuitive graphics and flexible filters help customers effortlessly find what they need and independently complete the transaction — for all itinerary changes. Automating the process and directing them toward value-added initiatives distinguishes your airline and service offering.


Build Loyalty Through Innovation
Make it personal
The extensible profile system contains passenger histories and customer value metrics. Deliver a reliable and superior end-to-end travel experience, complete with timely and personalized messages and customized services that keep customers informed, reduce the anxiety of travel, and show them how much they're valued.

Know your customers well
Real-time information is accessible across all components and at every touch point via a unique central repository. It's a single, unified, consistent view of your customers through all available channels, including self-service, mobile, and social media.

Merchandise and distribute your products
The integrated, extensible profile system and advanced merchandising system are easily configurable to your business needs. Offer the right products and services to the right passenger at the right time, every time. ITA's airline platform uses robust APIs and third-party connectivity for merchandising across both traditional and nontraditional channels.
> Learn more about our passenger service & reservations platform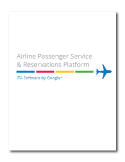 Airline Passenger Service & Reservations Platform Brochure