ITA Software's airline passenger service and reservations platform contains the software required to run a passenger airline, including: Reservations, Inventory Control, Departure Control, Schedule Manager, Reaccommodation, and more.
ITA Departure Control helps airlines guide customers through their airport experience more efficiently. Whether interacting directly with an agent or using a self-service channel, passengers always come away satisfied with the exemplary level of personalized service they receive.

With ITA Departure Control, complete real-time information about passengers and their histories is always available at all touch points. Meanwhile, the system's intelligent and flexible customer value metrics help you identify and service your most valuable customers.


Grow & Transform with Ease
Modernize operations and manage airport processes efficiently

Unique, shared database for reservations and departure control

Eliminates data transfer or duplication between systems by using a single database for all travel-related information
Provides agents with full passenger and reservation system information
Integrates customer profile information susch as individual and companion preferences and configurable customer value metrics

Fully supports codeshare, interline, and airline alliance partners
Highly configurable business logic significantly reduces the costs and time to modify the system to allow you to meet the latest business demands
Includes sophisticated role-based controls and configurable business logic based on airline rules and processes for a customized interface per airline business rules
Easily scales to suit the needs of airlines of all sizes, providing increased capacity and improved performance as your business grows

Easy to Learn & Use
Reduce training times, increase productivity, and ensure satisfied passengers

Enables automated or agent-driven management of seating, upgrades, standbys, denied boarding, disruption and passenger reaccommodation based on customer priority and preference information
Moden, intuitive interfaces reduce training time and let agents focus on the passenger, while quickly guiding them through the airport
Enables 100% self-service – even for disruption management – to reduces costs and processing time, and increase passenger satisfaction

Common use certified client supports: ARINC, SITA, Ultra, AirIT, RESA, OCR, MSR, 2D bar code scanning/printing, and more

Build Loyalty Through Innovation
Deliver a superior airport experience from all touch points

Integrated airline business rules, automation features, and workflow-optimized, graphical user interfaces allow frontline employees to more efficiently service the passengers
Integrating advanced customer profile information lets airlines offer tailored products and services during checkin, based on customer value, preference, and history
Integrates seamlessly with ITA Reaccommodation component to automatically or manually reprotect passengers
> Contact out Business Development Team to learn more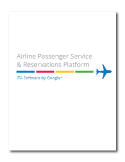 Airline Passenger Service & Reservations Brochure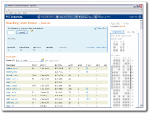 Efficient Departure
Control Management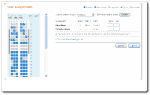 Flexible Seat
Assignments